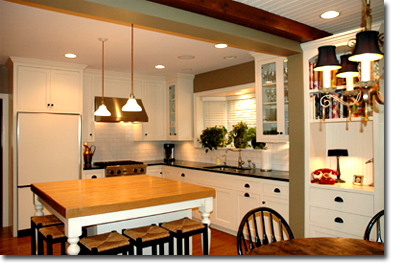 Kitchen Remodel
Hopkins, Minnesota

This home in the Interlachen area has a cottage flavor and the kitchen remodel is reflective of the house design. With square, recessed "Shaker style" cabinets and cupped black iron handles, the white kitchen with a splash of black creates a clean updated look while still coordinating with the original design of the home.
What the Customer Wanted:
Center island for preparing and serving food
Update cabinets and countertops
Additional storage space for dishes and books
Raise sunken family room to existing floor level

Replace old and drafty windows



How SJ Fisher Construction Solved the Problem:

Removed a wall and redesigned kitchen area to accommodate center island and to enhance workspace flow
Installed Shaker cabinets and soapstone counters to coordinate with style of home
Installed butcher block work island
Changed the floor level so that kitchen and family room are on one level
Added stone fireplace for warmth and beauty
Installed new windows, including transom windows to add more natural light
Added built-in cabinets for storage
Installed natural wood beams and beadboard ceilings to complement original architecture


"Working with Steve Fisher of SJ Fisher Construction was a great experience! Steve's attention to detail and expert advice was flawless. As a homeowner, finishing a project on budget is a major concern. Steve Fisher kept me posted on the cost of all changes to the order which made my experience virtually stress free. Our project ended up better than we expected!" Brian and Suzette B.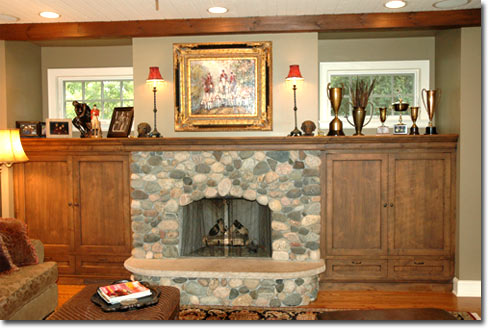 SJ Fisher Construction, Inc., 70 Florence Drive, Excelsior, MN 55331
(612) 221-5509 - Email: stevelynnefisher@msn.com
Joey Fisher (952) 990-3932