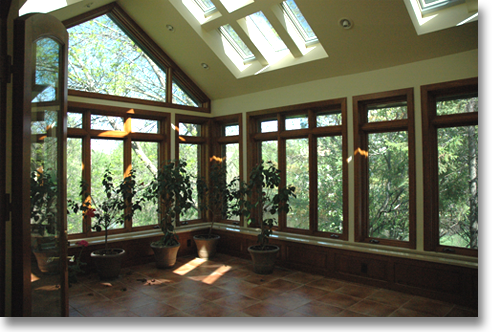 Porch Addition
Wayzata, Minnesota
This year-round greenhouse is truly unique. A beautiful ambiance is created with floor to ceiling windows and skylights. Twenty-six skylights open and close with remote control operation. Special features include a built-in channel with running water and drains so that potted plants can be automatically watered.
What the Customer Wanted:
More natural light to nurture their passion for plants
Sitting area for reading and relaxing
More natural air flow through house
Practical flooring for porch/greenhouse
How SJ Fisher Solved the Problem:
Built an addition with minimal use of wood and mostly glass
Created a greenhouse with the installation of twenty-six skylights and wall to wall windows
Designed the area to bring the outside in using operational windows and skylights
Installed built in copper channels to automatically water potted plants
Installed ceramic tile flooring for ease of cleaning and to keep area cooler

"This project required a lot of intricate details in the building process. Steve exceeded our expectations, met all of our timelines and we have a beautiful porch that will enhance the value of our home." Peter and Liz R.

SJ Fisher Construction, Inc., 70 Florence Drive, Excelsior, MN 55331
(612) 221-5509 - Email: stevelynnefisher@msn.com
Joey Fisher (952) 990-3932